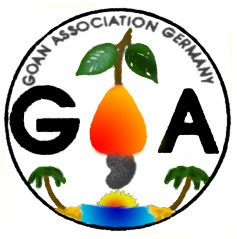 Goan Association Germany e.V.
Connecting People, Promoting Culture, keeping the Spirit of Goa alive in Germany
Mogal Goenkar Bhoinino ani Bhavano,
Goan Association Germany e.V. (GAG e.V.) was formally founded on the 31st October 2003, based in Frankfurt am Main, Germany. Our objective is to cater to the socio-cultural needs of the Goans in Germany. You can find more details about our aims, objektives and how to get involved in the About section.
Frankfurt am Main, Germany. Tuesday, September 26, 2023, 03:40 AM
News
GAG e.V. held a Family Picnic
On 22nd July 2023, GAG organized a family picnic at the Lphrberg Park
Thanks to all who attended and contributed in one way or another towards the picnic
What's Updated
Picnic Photos
Picnic Video
Upcoming Events
GAG e.V.
28th October 2023
St. Christophorus, An den drei Steinen 42c, 60435 Frankfurt
Konkani Munneo (sayings)
Chakri kelear bhakri asa
Literally

Serve and you will get bread.
Context of usage

Hard work produces results.