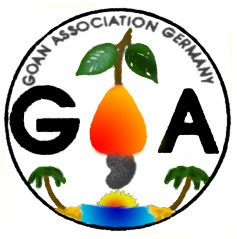 Goan Association Germany e.V.
Connecting People, Promoting Culture, keeping the Spirit of Goa alive in Germany
Mogal Goenkar Bhoinino ani Bhavano,
Goan Association Germany e.V. (GAG e.V.) was formally founded on the 31st October 2003, based in Frankfurt am Main, Germany. Our objective is to cater to the socio-cultural needs of the Goans in Germany. You can find more details about our aims, objektives and how to get involved in the About section.
Frankfurt am Main, Germany. Tuesday, June 22, 2021, 03:03 PM
News
COVID-19
Due to the COVID-19 Pandemic all planned events are of tentative nature.
What's Updated
GAG e.V. Website
The GAG e.V. website has recieved a rewrite. Hope you all like the new design
Upcoming Events
GAG e.V. GBM
The General Body Meeting was virtually held on 21.03.2021.
All events are on hold for the moment
Konkani Munneo (sayings)
Nachunk kollona, angonn vankddem
Literally

If you cannot dance, the floor is crooked.
Context of usage

Those who fail blame their circumstances.